Waterproofing Chemical Supplier in Gujarat
What is Waterproofing ?
Every home needs routine upkeep to avoid water damage. Waterproofing is effective as a wall. An expensive concrete building that has water problems is decaying. The building will last longer overall. For the sake of everyone's health and wellbeing, indoor water sources should be safeguarded. It seeks to stop water from entering in order to reduce habitat loss, moisture damage, hazardous and unclean conditions, and the degradation of structural components.
To ensure that a material or structure won't be impacted by water or will be resistant to water penetration, specific measures must be taken. Only to a certain depth in wet or submerged conditions are these goods usable.
Difference Between Water & Damp Proofing
The major distinctions between damp-proofing and water-proofing must be understood before choosing your chosen type of waterproofing chemical. The major differences are evident in the physical attributes. This mainly has to do with the construction supplies that are employed throughout the complete waterproofing process. Additionally, there may be a small difference in the thickness and application conditions for waterproofing and damp-proofing, respectively. But first, let's quickly look at how these two elements differ from one another.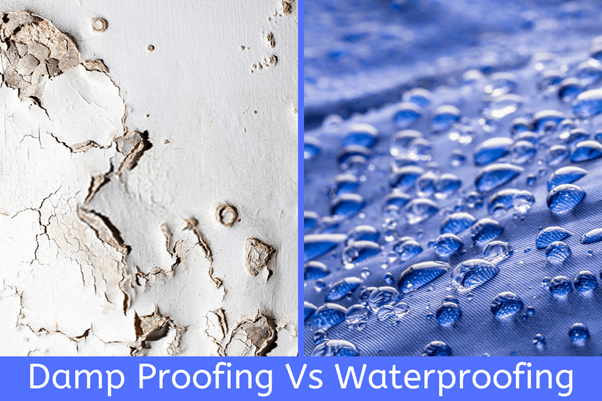 Damp-proofing:
Damp-proofing is the process of treating a particular surface. It is a coating that is applied to the exterior of the walls manually or with a sprayer, to put it simply. The major goal of this treatment is to safeguard a property by efficiently reducing the seepage of water vapour in addition to blocking the flow of incoming water. In light of this, damp-proofing is a possibility to take into account if worries about moisture have negatively impacted the structural integrity of your property.
Water-Proofing
To date, waterproofing is seen to be more successful than damp-proofing, which is only a simple procedure. The building in issue houses water in a number of states, including water vapour, moisture from the earth, and water under hydrostatic pressure. Therefore, it is always a good idea to choose water-proofing over damp-proofing if investing a lot of money and dedicating adequate time is not a huge concern for you. Both of these therapies are being offered to the best of their abilities by numerous reliable businesses. You can use any of these techniques to provide your walls the best protection possible. You are free to decide. ( Best Terrace Waterproofing Chemicals )
Important things to take into account while selecting a Waterproofing Solution In Gujarat
Before choosing the best waterproofing material for your house, there are a few things to think about. Let's look at a couple of them.
Resistance to UV
Binding strength
Increasing Time Robustness
While looking for waterproofing remedies and solutions for your newly constructed home, you may find this list of the top waterproofing businesses in India to be of interest. Before making a decision, you should check internet reviews, and you should choose the Indian waterproofing companies with the best ratings. Build Healer carried out this poll.
Why CHEMAX ?
Chemax Construction Chemical Pvt Ltd is a well-known and reliable manufacturer and exporter of specifically waterproofing chemicals. We provide premium goods and the possibility for customisation. We have been recognised as an ISO 9001:2008 Certified Company by JAS-ANZ. When it comes to the quality of all of our goods, including waterproofing, we have high requirements.
With the aid of qualified experts, we have effectively carved out a position for ourselves in the construction business by offering top-notch waterproofing chemicals, Best Terrace Waterproofing Chemicals, Basement waterproofing chemicals, Swimming Pool Waterproofing Chemicals, throughout the entirety of India. We specifically provide our chemical waterproofing services to manufacturers in Mumbai, Pune, and Kerala, among others.
Some Important Links :
Waterproofing Chemical in Gujarat
Waterproofing Solution in Ahmedabad
Waterproofing Solution Vadodara
Waterproofing Chemical Manufacturer Gujarat
Quality Waterproofing Chemical Supplier
Best Waterproofing Chemical in Gujarat, India
This chemical is used to waterproof plastered surfaces, such as walls and roofs. To ensure that the products won't be affected during transit, these waterproofing chemicals are expertly wrapped. Only building projects of any kind employ our selection of construction chemicals, such as concrete additive, surface treatment, grout, industrial flooring goods, and structural repair solutions. We already work together on several public and private initiatives !!
We are a Top Supplier of Waterproofing Chemicals. We Have Various type of waterproofing Chemicals like
CX WATERSEAL WH,
CX FLEXIBOND 2C,
CX TRANSCOAT 255,
CH TRANSCOAT SUPER 111,
CX DAMPPROOF ULTRA,
CX COOL-NCOOL HR,
CX RAINSEAL 01 (FOR WALL),
CX BLACK COAT 220,
CX FLEXIBOND CWS,
CX CRACKFILL PASTE,
CX JOINT SEALANT PS,
CX JOINT SEALANT PU
Some of Our Waterproofing Chemicals Are Below::
Fill The Form Below For More Products Info :